Healthy Cherries
By: Adapted from an article by Lisa Costa Bir, Naturopath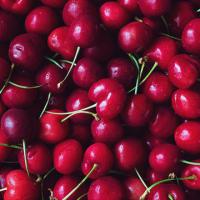 It's cherry season again but you had better get stuck into them quickly; cherries are only in season for 100 days of the year from November to February. Like most fruits, cherries are a nutritional powerhouse and are packed full of anthocyanins (powerful antioxidants), quercetin (great for reducing allergies), potassium, fibre and the antioxidants vitamin C & carotenoids.

Here are three reasons that the latest research is urging you to pop a cherry plus make sure you check out lots of delicious recipes utilising cherries

Cherries & inflammation
If you're worried about any sort of inflammation in your body, you may want to add some cherries to your daily diet as cherries have been shown to exert an anti-inflammatory action. For 28 days healthy individuals supplemented their regular diets with 280g per day of Bing sweet cherries (about 45 cherries). Following consumption of the cherries researchers observed lower circulating concentrations of inflammation markers such as C reactive protein (CRP) and nitric oxide (NO) in the otherwise healthy men and women. The anthocyanins are thought to be just one of the constituents responsible for the anti-inflammatory action of cherries.

Cherries help you sleep
Tart montmorency cherries (the sour ones) contain melatonin, a natural hormone produced by the body known to be essential for regulating the sleep-wake cycle in humans. In a randomised, double-blind, placebo-controlled, crossover design, 20 volunteers consumed either a placebo or tart cherry juice concentrate made from montmorency cherries for one week. Melatonin levels increased in the volunteers drinking the cherry juice & resulted in an increase in the volunteers total sleep time, the time the volunteers spent in bed as well as an improvement in sleep quality. The results from this study suggest that cherries may be of possible benefit in helping to manage those with disturbed sleep such as that experienced by shift workers.


Cherries and high uric acid
Have you ever had blood tests come back and the doctor tells you that you have high uric acid levels? If so, munching on some cherries may be just what you need. Ten healthy females aged between 22 & 40 years old consumed two servings (280g) of cherries after an overnight fast. Following eating the cherries researchers measured the individual's plasma urate and noticed that it had decreased. High urate levels are one of the more common things I see on lab tests in my clinic and whilst they are often related to gout they can occur as a result of other conditions including certain types of anaemia, psoriasis and impaired kidney function.
Comments

Be the first to comment!

Add your comment
To post comments you need to be a member of The Food Coach club. Membership is free, so click here to begin posting!
If you are already registered, or are already a member of The Food Coach Club, simply enter your username and password below to begin commenting.
«Forgotten your password? Click here»