7 essential meals to teach your kids this holiday
By: Judy Davie - The Food Coach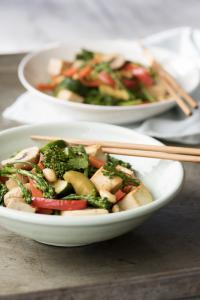 One of the best gifts you can give your children is the gift of knowledge which hopefully they will get, some amount of, at school: At home you can teach them how to cook.

Being able to cook is a fundamental survival skill which ensures that provided there is access to fresh natural food a person can eat well. It's important to note however that this is not the same as having access to money because all that ensures is people can eat; what they eat is entirely dependent on what they learn about the value of food and what it does for the body.

So let's assume that your child understands that the function of food is to nourish his/her body and he or she can't survive on fast food alone. Your job is to teach them what they can cook that is inexpensive, quick, easy, nutritious and delicious enough that they can be bothered to make it. Now that's quite a challenge when you consider how many other great things there are to do when you've just left home so you're going to have to really sell it to them. Nevertheless they'll have the skills to fall back on at any time and that in itself is invaluable.

To help you we've put together our 6 meals we think all kids should know before they leave home and with school holidays fast approaching we thought , if they don't know how to cook already, now is the time to learn.

Feel free to share your suggestions to the bottom of this article.

Eggs Five Ways
Boiled, Poached, Scrambled, Omelette, Frittata

Let them know :

Eggs are the best superfood money can buy in terms of value and nutrients. They are a great source of protein and protein is important nutrient to include at breakfast, lunch and dinner.

Tell them why that's important:

Protein is used as the building blocks to make all the cells in the body, from our skin, hair and nails to the body cells which form the organs and systems that keep us alive.
Protein also helps to keep us from feeling hungry.

Stir Fry

Once you teach your child how to sauté meat, chicken or tofu any combination of stir fry awaits. The best way to produce a fresh and appealing stir-fry, without a commercial wok burner, is to partially steam the vegetables ( and always do lots as leftovers can be tossed into a frittata) before they go into the pan with the protein. Once partially cooked they can be tossed quickly through the wok with soy sauce, lemon juice, chili and a little honey and voila it's made.

A meal where half the dish comprises of veggies is a huge win for good health.

And while you're at it

Teach him/her how to cook basmati or brown or black rice towards because they are all heaps better than jasmine!

Why? More nutrients and they'll keep his/her feeling full for longer.

Grilled fish or chicken

A grill pan is a great leaving home gift provided you accompany it with a baking dish for the veggies.
It's pretty safe to assume 2 pans is the most you can expect your child will want to clean up. The baking dish will take care of the veggies, and while they're in the oven he/she can grill the protein. Fish is great brain food, particularly salmon, but if you can't sell that option, teach them how to cook chicken instead.
We recommend a 2 - 3 minutes sear on both sides, finishing it off in the oven for 15 - 20 minutes in the baking tray on top of the roasted veggies.

Roasted Veggies

Regular consumption of roasted veggies in every colour is another safeguard against the strains of bugs that are out to get us. Pumpkin, mushrooms, zucchini, red capsicum, onion and garlic are all great choices, with a couple of handfuls of green leaves like spinach and rocket thrown in at the end to wilt in the pan. With sliced grilled haloumi, a tasty dressing made with olive oil, salt and a little lemon juice or vinegar his friends will love him.
And of course any leftovers can be thrown into make a frittata.

Chilli beans or beef

Made with minced beef, chicken, turkey or beans, a big pot of chilli is the mainstay of students across the world. Boost it with cauliflower, mushrooms, zucchini and red capsicum and include both kidney and black beans, It's an easy meal to make and loved by all.
Chilli is great served with rice, in taco shells with grated cheese and sour cream or in baked potatoes.

Let them know the importance of food health and safety. The pan with leftover chili can't sit on the stove for days. Refrigerated leftovers in an airtight container and freeze whatever won't be eaten within 3-4 days.

Basic salad dressing

It's the 101 for all French cooking, a delicious dressing to drizzle over green leaves and other salad foods. Three parts oil, 1 part acid ( vinegar, lemon or lime), ˝ a teaspoon of teaspoon of mustard ( we like Dijon) to hold it together and a little seasoning. Add that to a few scoops of green leaves, tomatoes, avocado, cucumber and whatever else they love in a salad and a fab meal served with grilled fish, chicken and salad is waiting for them in about 25 minutes.

And to remember the sweet comfort of home
A homemade apple pie - from Mum with love

Happy cooking!
Comments

Be the first to comment!

Add your comment
To post comments you need to be a member of The Food Coach club. Membership is free, so click here to begin posting!
If you are already registered, or are already a member of The Food Coach Club, simply enter your username and password below to begin commenting.
«Forgotten your password? Click here»