Styling summer fruits for stunning desserts
By: Judy Davie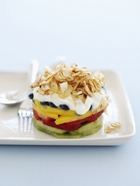 If any of you are anxious about hosting this year's Christmas bash you may like to give yourself a break with the Christmas dessert. Instead of sweating over the stove praying for your cake to rise, why don't you cheat this year and assemble a dessert using ingredients from your local greengrocer styled in a beautiful way.
During summer the fresh fruit growers have done most of the work for you and we are spoilt for choice with fresh mango, apricots, peaches and nectarines, cherries and berries, lychees, and plums. All the summer fruit is delicious and needs very little done to it to make it special. However if you want to generate the oohs and aaahs from great Aunt Betty and little Fred, a bit of decorating is required to make the plates looks spectacular - even if you're doing something as simple as mango, berries, meringue and cream (a crowd-pleaser at the best of times)
Plate the produce beautifully and your friends and family will remember Christmas 2017 for the spectacular dessert you served.
Plates and glasses - matching or deliberately mismatched
Interesting shaped glasses all the same size can be great for berries, cherries and lychees or you could use different glasses provided they hold a similar volume. Keep your practical hat on and make sure your guests can get the spoon into the glass and the glass is not too delicate. Style and practicality is the game here - There's nothing worse than being served, for example, a meal with a sauce running off a flat plate, or on some dirty timber board which looks like a health hazard.
| | |
| --- | --- |
| | |
| Cherry Image : Gerry Colley | Berry Glass trifles : Sourced from Pinterest |
Shapes and texture on white
Food on white plates always looks smart but it can be a little boring. Consider colour by laying it on a coloured plate which matches the food or decorate the plate with washed leaves or flowers.
Shape and colour
Arranging the dessert into a nice geometrical shape is gorgeous, as it can be when you set the dessert off centre. Colour and texture complete the scene. We love the colours in raw pistachio which also add texture when they are chopped roughly and scattered over vanilla ice-cream with fresh blueberry and blueberry mousse.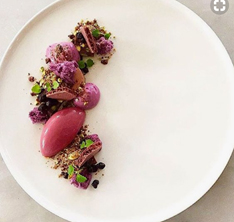 Image sourced Pinterest

Layering This looks spectacular and is a spectacularly easy way to cheat. Source some thin biscuits - wafers work well - and layer fresh berries and cream or ice-cream between each biscuit. A dust of icing sugar and fresh mint will complete the scene. Alternatively make this Berry and Coconut Dessert with a layer of summer fruits topped with cream, yoghurt or mascarpone and with toasted coconut
Strawberry layer dessert
Image sourced from Pinterest
Berry and Coconut - John Paul Urizar
Top and toast
Another wonderful trick of cheatery. Source Italian biscuits or Pandoro and cut into circles. Top with cream and use the cream to "fasten" a pretty arrangement of berries to.
Alternatively if you really must produce something you've cooked yourself - toast peaches or nectarines under the grill and top with a blob of mascarpone, a few shavings of candied orange and mascarpone.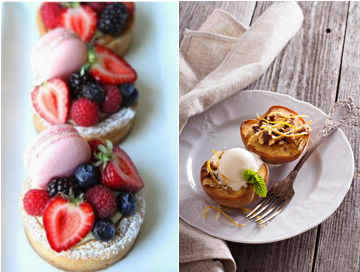 Image sourced Pinterest
These are just a few ideas about how to style your dessert - Pinterest is an excellent resource for further ideas on food styling and table decoration.
Comments

Be the first to comment!

Add your comment
To post comments you need to be a member of The Food Coach club. Membership is free, so click here to begin posting!
If you are already registered, or are already a member of The Food Coach Club, simply enter your username and password below to begin commenting.
«Forgotten your password? Click here»