Wok around the clock
By: By Judy Davie - the Food Coach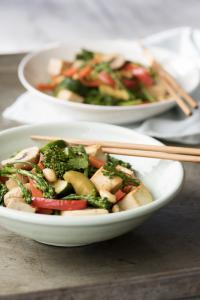 I picked up a book the other day about stir frying and in it author, Jeremy Pang - his book Chinese Unchopped referred to something called the Wok Clock. Intrigued I read on. It's a simple and rather inspired idea where you arrange all your prepared ingredients on a large plate in the order of a clock and in the order you will cook them in.
Beginning at the twelve o'clock mark you place the base ingredients such as onion, ginger and garlic. Between two and three are the firmer vegetables, such as carrot, broccoli and pumpkin.
The protein element such as meat, chicken, fish or tofu sit between four and seven.
Place light leafy vegetables between eight and nine o'clock on your plate.
At ten o'clock is the sauce you plan to use to flavour your stir fry
Finally when you are just about to serve add elements like shallots and chopped herbs come in at eleven.
It's a pretty clever way to get organised and avoid continually referring to the recipe while cooking. How many of us have you done that and missed out an ingredients altogether?
Preparation is always key when it comes to wok cooking, given you need to cook everything hot and fast to keep it clean and fresh.
So grab a large round plate, start prepping those veg and let's do it!

Here are six more hot wok tips to stir frying.

1.Invest in a cast iron wok which will hold heat evenly. Those with an induction hotplate will need a flat bottomed wok.
2Marinate the meat overnight or for a few hours as it will be more flavoursome and tender.
3.Cut to a similar size so they cook evenly
4.Use oils with a high smoke point such as sesame and coconut oil.
5.Preheat your wok before you add the oil.
6.Cook the meat in small batches to seal in flavour. Too much all at the same time will stew the meat

Happy stir frying !

Comments

Be the first to comment!

Add your comment
To post comments you need to be a member of The Food Coach club. Membership is free, so click here to begin posting!
If you are already registered, or are already a member of The Food Coach Club, simply enter your username and password below to begin commenting.
«Forgotten your password? Click here»