Ways to overcome the problem of food deserts
By: Judy Davie - The Food Coach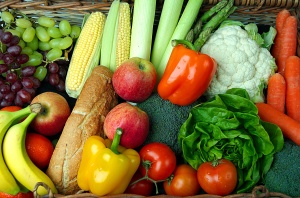 A wholefood café and grocery store has opened at the end of my street which means that I no longer have to jump in the car and fight for a parking space, or over-buy which I tend to do to avoid having to go to the shops again. With this new store the only choice is fresh, wholesome and healthy food. Organic fruit and veg, meat and dairy items, wholegrains, line caught fish and a few little treats thrown in, makes the job of eating healthily very easy.

Sadly not everyone has the this same luxury.
Studies have shown that people who live in "food deserts" without local access to fresh healthy food are more likely to be at risk of or suffer from a chronic disease such as type 2 diabetes. These food desert locations are prime sites for fast food outlets which are now the only consumable choice in the proximity. When the only choice is high energy, low nutrient food marketed at you each day it becomes the norm.

It's a sad state of affairs when your built environment makes it hard to be healthy, and while we wait for federal, state and local government intervention, as hard as it might be, it's up to the individuals to employ strategies to overcome, what in reality are, very large and real obstacles.

The first thing to do is observe your own foraging behaviour. Where do you buy food from and how often? Do you pick things up in passing for immediate use and sometimes forget or run out of time, or do you head out one day a week to buy big from the supermarket? Maybe you live close to a supermarket or greengrocer but the traffic's a nightmare and the parking is bad and some days you just can't face it. Maybe you grab some things on the way home from work but because you use public transport you can't carry that much. Maybe you have such a long travel time you worry about fresh food perishing, especially in summer.

All these situations listed above are real obstacles which will trip you up from time to time. The objective, if you want to stay healthy is to minimise the trips.

Fortunately these days there are ways to tackle.


Take the time to plan a weekly menu and set up a recurring online order with a fresh food and grocery service.


Try one of the fresh ingredient and recipe on line delivery services which delivery all the ingredients you need to make a meal.


If you buy your shopping daily on route to your home, buy a market trolley with wheels to help you carry it.


Buy some ice for the freezer to use when transporting fresh food a long distance


Join or set up a local harvest hub where fresh local produce is delivered to your local hubster for pick up.


If the madding crowds and traffic bother you, aim to get to the shops when the least amount of people are there. Depending on where you are this could be at night or early in the morning.


Change your mindset.Instead of seeing the task of foraging for food as a chore, think of it as a fun pastime and go foraging for it properly when you have some free time. Visit Farmers Markets, suburbs of various ethnicity to try food from other countries, and other food specialists.

These are just a few ideas about how to make fresh food shopping accessible. If you have any other ideas please share them at the bottom of this article.
Comments

Be the first to comment!

Add your comment
To post comments you need to be a member of The Food Coach club. Membership is free, so click here to begin posting!
If you are already registered, or are already a member of The Food Coach Club, simply enter your username and password below to begin commenting.
«Forgotten your password? Click here»