Life's more simple with less.
By: Judy Davie - The Food Coach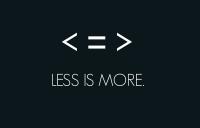 This week I was in the city and went for breakfast in a trendy inner city café. Like most on-trend cafes there was a breakfast bowl option which included sautéed kale with garlic, pumpkin seeds, quinoa, sprouts, poached eggs, nuts, cheese and tomato relish. For my rather simple am palate it was all a bit much. I kind of like to break my fast gently with simple flavours from clean foods although I do understand that piling as many superfoods into one bowl is highly marketable these days.

Later that morning I had a meeting with Ingrid my publisher and a lengthy discussion about what's selling and what's not. I left, my head loaded with advice about tapping into what the public are currently interested in before conceiving another book.

I walked through the city thinking about what Ingrid had said, but before heading to the car I went through Myers to replace a skin moisturiser I like to use (Mecca - In a Good Light). Whilst there, as I often do, I headed to the perfume counter and was met by a nice man at the Tom Ford counter who allowed me to try one of TF's latest fragrance. He then demonstrated how it could be layered with another - of about 10 - TF scents. These days it seems we shouldn't be content with just one perfume when we can layer perfumes to create something else - perhaps dependant on our mood, the weather, and time of day ….. Who knows really? I walked away thinking what a clever sales strategy and what type of person falls for it.

Is this really is what the public want - to consume more and more? Not content with a simple few healthy ingredients people think there's more value in six or seven. One beautiful fragrance must now be layered with others to create an endless number of scents.

In my discussion with Ingrid I mentioned that I believed the average person is quite happy eating the same breakfast most days of the week - perhaps changing it a little with a variety of seasonal fruits. For me, lunch follows a similar pattern as the same soup is served until the pot runs out. We do eat different meals each night but there is a consistent pattern over a fortnight; dishes like salmon and miso soup, baked fennel and chicken, stir fry with tempeh, chilli turkey, vegetable curry, and roast chicken reappear frequently when life is busy.

To me, more is not better. More is more stressful, demanding, a burden and maybe a little greedy. Less is simple, uncomplicated, and attainable.

If, from what I can see around the city and in hip cafes about town, we are feeding on more and it's what we want, then I have my work cut out for me.

Don't feed the beast, whoever or whatever that beast may be.

Life's more simple with less.
Comments
Jill
Jul 27 2017 4:32PM
Totally agree, it is a world of over indulgence these days, aided and abetted by smart advertising, time poor people, and lack of knowledge regarding good balanced food diet and portion sizes.
Margaret
Jul 28 2017 11:01AM
I totallyagree!Keep it simple.As close to nature as possible
Add your comment
To post comments you need to be a member of The Food Coach club. Membership is free, so click here to begin posting!
If you are already registered, or are already a member of The Food Coach Club, simply enter your username and password below to begin commenting.
«Forgotten your password? Click here»