What's a serve?
By: Judy Davie - The Food Coach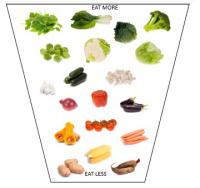 Australian adults are supposed to eat five serves of vegetable and 2 fruit a day for good health. You knew that right?

But do you know what a serve of vegetables actually looks like? There's a good chance that you don't because as you know vegetables come in all shapes and sizes and the standard 75 g serve is pretty difficult to gauge without a set of scales at hand.

The national average for fruit and veg consumption is appalling with only 10 % of women and 4 % of men currently meeting the national dietary vegetable intake requirements. With fruit we're doing a little better: Currently 55% of women and 44 % men are eating the recommended 2 serves a day.

At this point it's worth noting that although 5 serves of vegetables is the recommended daily requirement many health experts suggest we eat more than five serves a day for optimal health which if we're honest, is pretty hard to do.

What is a serve?

A standard serve of fruit weighs 150 g and is the equivalent to (on average) a medium sized apple, orange, pear, and banana. For larger fruits such as pineapple and melon cut into chunks, consider ½ - ¾ up a healthy serve. Fruits such as kiwifruit, mandarins and plums are smaller and therefore 2 of each is considered to be a single serve.

The average serve of vegetables weighs 75 grams which is (roughly) the equivalent of 1 cup raw green leaves vegetables, such as lettuce, rocket, baby spinach and ½ cup of the more robust vegetables such as green and red cabbage, broccoli, and cauliflower. Half a cup is a fairly standard serve for other non-starchy vegetables such as mushroom, capsicum, pumpkin, carrot and zucchini. The serving size for starchy or sweet vegetables is smaller. Half a medium sized potato, 1 corn cob and ½ small sweet potato should be considered as one serve.
As a quick and rough guide we have prepared the following table using more common measurements to make counting your daily vegetable consumption easier.


| | |
| --- | --- |
| Vegetable | Common Serve |
| Spinach, lettuce, rocket, Asian greens | 1 cup |
| Shredded cabbage | 1/2 cup |
| Brussels sprouts | 4 sprouts |
| Broccoli | 7 florets |
| Green beans | 15 beans |
| Peas | 1/2 cup |
| Mushrooms | 3 medium |
| Cauliflower | 6 florets |
| Capsicum | 4 rings |
| Zucchini | 3/4 medium |
| Onion | 2 medium |
| Eggplant | 1/4 medium |
| Potato | 1/2 medium |
| Sweet potato | 1/2 medium sweet potato |
| Sweetcorn | 1 small cob |
| Tomato | 1 small fruit |


Now you know what constitutes a serve - can you eat 5 a day?


Comments
Maureen
Jul 21 2017 7:46PM
Thank you Judy I have always thought 1/2 cup for all vegetable was one serve. You are never too old to learn.
Diane
Oct 5 2017 2:36PM
I am finding it more and more difficult to get a good assortment of vegetables as sides whilst dining in restaurants, where in a lot of cases your plate only contains the protein.
I believe this is due to the majority of diners only ordering roasted or fried potatoes and basic salads.
Very disappointing given the wonderful assortment of fresh produce available here in Australia.
Add your comment
To post comments you need to be a member of The Food Coach club. Membership is free, so click here to begin posting!
If you are already registered, or are already a member of The Food Coach Club, simply enter your username and password below to begin commenting.
«Forgotten your password? Click here»