The game of REAL Good Health
By: Judy Davie - The Food Coach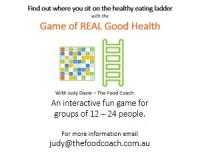 I've developed a new game called "The game of REAL Good Health". It's a result of years of working with individuals and groups, and writing and reading about health and diet.

Today, compared with what it was like when I started The Food Coach, everyone is an expert on food and diet and never were so many people as confused and obsessed as they are today. I'm hoping my game goes some way to fixing that. It teaches people about what a good healthy diet looks like, how to make it sustainable and what behaviours to watch out for which can impede or promote good health. In other words just because you know what a healthy diet looks like, it doesn't mean you will (or should always) follow it.

Some of you may remember the Lighten Up campaign I ran in Wagga in 2015. With the Lighten Up theme in mind, the game is informative and great fun. Everyone gets involved, a team member from each team walks a giant floorboard propelled along by the throw of a giant dice and their team correctly answering a question on food and nutrition. Occasionally and depending on where they land on the board, they are nudged forward or thrown back when a scenario illustrative of some real life behaviour which affects health is called out.

To me, the game is an analogy on what's happening today with food and diet. People need to Lighten Up and have some fun with it. They should understand what food does for the body and work to maintain good health recognising that life is not only about what goes into their mouth.

In other words I want people to learn to Lighten Up!

To give you an example. Yesterday I had lunch with a good friend of mine who has two young kids. She's younger than me, extremely committed to living a healthy life and as such she's more susceptible to fall for the latest trends in healthy eating. Her youngest child is on a gluten, dairy and sugar free diet and because her child loves sweet things she takes chia and raw cacao puddings to school in her lunch box every day. She's 13 years old. I hope my friend isn't eating this right now because my view is that she's taking healthy eating to the extreme. I gently suggested chia and raw cacao is hardly mainstream lunch box food for kids and there are issues with over consuming chia, but she's at that place on the healthy eating ladder which can be really hard to come down from.

At the other end of the ladder is another friend of mine who does recognise vegetables even if he seldom puts them into his mouth!

The game of REAL Good Health is great fun to play and I'm having great fun delivering it which is why you are reading this article. It's also important if we want to go some way to normalising people's eating habits.

If you work for a company or would like to get a group together to run the game please get in touch with me by email (judy@thefoodcoach.com.au) for further details.
Comments

Be the first to comment!

Add your comment
To post comments you need to be a member of The Food Coach club. Membership is free, so click here to begin posting!
If you are already registered, or are already a member of The Food Coach Club, simply enter your username and password below to begin commenting.
«Forgotten your password? Click here»