Are spiralisers still on trend?
By: Judy Davie - The Food Coach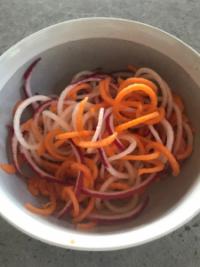 Zoodles, Caroodles, Roodles and Spoodles
Whenever you see a picture of spiralised veggies they're almost always made using zucchini and that's because zucchini make perfect zoodles. They're just the right texture to produce long spaghetti or noodle shaped strands hence the name zoodles.

Plenty of websites enthusiastically claim that you can spiralise almost anything, but I'm not convinced. Maybe it's my basic little spiraliser that's not up to the task, and maybe it's also because I'm not sure why you would want to!

Take broccoli for example, why would you bother? Or onions; aren't onion rings good enough? Capsicum can be cut finely into long thin strips in a fraction of the time so again, the question is why?

Don't get me wrong, I like some things spiralised even if I can't always be bothered doing it. In the lead up to summer when I'm trying to reclaim my bather's bod, zoodles are a much better option than pasta, but I just want to set some realistic expectations. For those with a basic hand-held spiralising devise some veggies don't earn their "oodle" naming rights and I'm not sure the effort (and waste) is worth the reward.

I have a basic manual spiralizer with two blades, one which produces noodle-like single strand and the other which turns (some) veggies into a kind of helix shape.


Eggplants don't to work with any blade.

Carrots produce disappointingly short noodle shape strands but almost necklace long helix shaped strands, which is quite fun.

Radish, both red (Roodles) and white (Doodles from Daikon radish) work excellently with both blades and when combined and the carrot and radish look pretty cool even when the carrot strands are short.

Beetroot produced a similar result to the carrot but once mixed into the carrot and radish the whole lot turns pink so my fabulous tri-coloured salad idea was a fizzer.

Spiralising is quite fun and can produce some great looking salads if you're planning a party and want to serve something different, but my advice is to stick to the zoodles, play around with the roodles and forget the rest.

Wedges work well for me - in shoes and veggies!
Comments

Be the first to comment!

Add your comment
To post comments you need to be a member of The Food Coach club. Membership is free, so click here to begin posting!
If you are already registered, or are already a member of The Food Coach Club, simply enter your username and password below to begin commenting.
«Forgotten your password? Click here»