Raising the Australian average of fresh veg consumption
By: Judy Davie - The Food Coach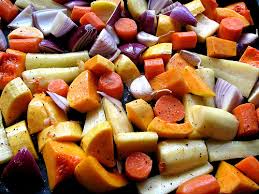 I'm just back from a two day conference on obesity and food governance which was a meeting of brilliant minds, all of them saying we didn't eat enough fresh produce. I knew that!

According to the Australian Bureau of Stats, in 2014-15, only one in twenty (5.1%) adults met the guidelines for recommended daily serves of fruit and vegetables. Fruit was a bit better with 49.8% of Australians aged 18 years and over achieving the recommended 2 or more serves, however only 7.0% met the guidelines for 5 - 6 serves of vegetables.

Unless you've been in a bubble, you will know that including sufficient fruit and vegetables, reduces a person's risk of developing conditions such as heart disease and diabetes, but let's face it - it's quite hard to do, especially if - let me throw another stat at you - 30% of the food you eat is eaten outside your home.

Just in case you have doubt about what constitutes a serve here's a rough guide:

Vegetables
A standard serve is about 75g (100-350kJ) or:

½ cup cooked green or orange vegetables (for example, broccoli, spinach, carrots or pumpkin)

½ cup cooked dried or canned beans, peas or lentils (preferably with no added salt)

1 cup green leafy or raw salad vegetables

½ cup sweet corn or 1 cob

½ medium potato or other starchy vegetables (sweet potato, taro or cassava)

1 medium tomato

Fruit
A standard serve is about 150g (350kJ) or:

1 medium apple, banana, orange or pear

2 small apricots, kiwi fruits or plums

1 cup diced or canned fruit (no added sugar)

Source: www.eatforhealth.gov.au

Now while all that knowledge is important, it's more important being able to achieve in your busy life.
I thought it might be worth giving you an example of a healthy veggie-filled day. Once you get the idea you may help raise the Australian average

Smoothie
Start the day with a green smoothie made with 1 cup green leafy veg, ½ an apple or pear, 2 stalks of celery and some mint, a small piece of lemon, 1 date and some ice cold water - 2 serves
Veg = 1 ½ serves - Fruit = 1 serve

Muesli, fruit and yoghurt
Combine ½ cup muesli with ½ cup diced fruit and serve with yoghurt
Fruit = ½ serve

Salad and cheese wholegrain roll
Pile in the grated carrot, beetroot, sprouts, green leaves, tomato
Vegetables = ½ serve - Fruit = ½ serve

Raw carrot and raw nuts snack
Vegetables = 1 serve

Grilled chicken with ½ cup roast pumpkin, 75 g beans and 75 g asparagus
Vegetables = 3 serves

Daily Total - Veggies = 6 Fruit = 2
Now I don't know about you but I think to achieve that requires a bit of careful thought and planning, which, once implemented makes achieving the health goal very attainable. It requires some conscious thought at the start but once off and running and once you realise the many health benefits that come eating 5 - 6 serves of fresh veg a day, the more you will be propelled to continue.
Comments

Be the first to comment!

Add your comment
To post comments you need to be a member of The Food Coach club. Membership is free, so click here to begin posting!
If you are already registered, or are already a member of The Food Coach Club, simply enter your username and password below to begin commenting.
«Forgotten your password? Click here»