Your right to eat and drink in public
By: Judy Davie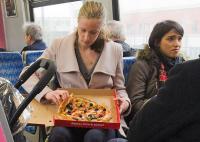 This week I attended at conference on Food Governance. One of the presenters, Professor Boyd Swinburn, gave the keynote address and talked about the governance challenges and potential solutions for obesity prevention.

He raised the issue that, to date, there has been no policy implemented to change eating behaviour.
Think about smoking as an example. I can remember a time when people could smoke at the back of a plane, on a bus or at their desks in the office. It was perfectly commonplace to sit in a restaurant engulfed in smoke or enter a pub and be met with a fog of smoke. Not these days since legislation banned smoking in all public enclosed places.

Understandably a policy to prevent smoking in a public space is easier to implement given that the effects of smoking impact those in the near vicinity of the smoker but it's an interesting idea to make some places food-free zones.

Growing up in Scotland we never ate in the streets; there was an unspoken rule about it being bad manners to eat in public, other than sitting down in a restaurant obviously. In Japan it is still considered to be bad manners to eat in public particularly on public transport.

Australia is often regarded as the nanny state with rules for most things so I don't imagine - or even support - legislation to block people's right to eat wherever they like however, given the incidence of chronic disease and obesity in this country (and around the world for that matter), there is some merit on try to influence the opportunities to eat.

Other than on planes and long haul train trips, preventing eating on public transport is plausible as it reduces the risk of neighbouring travellers wearing the double shot latte if the bus has to make an emergency stop, but governance against eating while walking freely down the street is preposterous. A good health/good manners campaign might be met with better will although I suspect would have little results.

It's food for thought anyway and a subject I'd love to hear your thoughts on.

Until next time - have a great weekend and remember, if you do have to eat in a public place, at least do it sitting down.
Comments
helen
Nov 4 2016 8:13AM
I was bought up with the same unwritten rule, but often told,
" A LADY never eats in public" and I would still never eat while walking along, except on the golf course. 🍌⛳️
Michelle
Nov 4 2016 10:43AM
I don't think it is a good idea to ban people eating in public. It may make those members of the public who have never had any issues with food or their body weight feel more comfortable. It will encourage further discrimination towards & feelings of ostricism by overweight people. It won't stop me from eating high sugar/fatty etc foods. I wiĺl just do it more in private.
Helen
Nov 4 2016 5:40PM
Sounds like a great idea...I too was brought with "you should never eat in the street, it's bad manners". If eating was banned except for being at a table there would be an enormous decrease in the amount of food people consumed.
Add your comment
To post comments you need to be a member of The Food Coach club. Membership is free, so click here to begin posting!
If you are already registered, or are already a member of The Food Coach Club, simply enter your username and password below to begin commenting.
«Forgotten your password? Click here»