Loving Lebanese - A feast for 8 people
By: Judy Davie - The Food Coach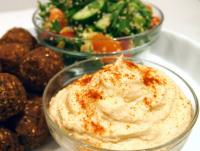 Which do you think sounds better?

Deep-fried felafel with tahini sauce and salad or Gluten free felafel with black tahini sauce and roasted buckwheat tabouleh?

In this day and age, most people, especially those living in the eastern Suburbs would turn their nose up at the first and dive into the second but the truth is, they're one and the same. I bet too, if you were running a restaurant you could charge double for the second as everyone will agree that it's much healthier. It is healthy, and so is the first.

I'm one of these people who would ordinarily steer well away from deep frying, but the other day I saw a lady at the markets making felafel in a wok. It's a simple idea. The shape of the wok means you don't have to use too much oil but what you do use is deep enough to completely submerge the felafel and cook it quick and crisp. What surprised me most after trying it for myself, was the amount of oil used - about half what I expected. I used 250 ml (1 cup) oil and there was 200 ml left after frying which means the 32 felafel absorbed a total of 50 ml oil which is about 1.5 ml in each felafel.

Anyone who's ever tried shallow frying felafel would agree that in all probability you would use more oil for a far worse result. There's a reason the Lebanese have been cooking like this for centuries. Silly me doubting its healthfulness.

Lebanese staples such as hummus and falafel are extremely healthy. Add some tahini sauce (black to be fancy) and a tabouleh made with gluten-free roasted buckwheat instead of bulgur and the health crazies will become even crazier!

Chickpeas, in felafel are a good source of plant protein as well as calcium, magnesium, phosphate, iron and vitamin K. The collective pull of these essential nutrients help to strengthen your bones, lower blood pressure, fight cancer, reduce inflammation and lower cholesterol.

The recipe for felafel was adapted from one found in the original Lebanese recipe book written by Dawn Herman. In it she used a combination of chickpeas and fava beans but because I didn't have any fava beans, I just used the chickpeas.

Here are the recipes for a feast for eight people

Deep fried felafel

Serves 8

1 cup dried chickpeas, soaked overnight
2 cloves garlic, crushed
1 onion, chopped finely
¾ tbs bicarbonate of soda
½ tbs salt
2 tsp ground cumin
1 tsp ground coriander
1 cup parsley, chopped
1 cup sunflower oil

Drain the chickpeas thoroughly and place them in a food processor with the garlic, onion, bicarbonate of soda, salt, ground spices and parsley. Process until the mixture is well combined, soft and a little pasty.
Use a couple of spoons to form the felafel balls. The mixture should make 32 balls.
Heat the oil in a wok to hot, add the felafel to fry for 2-3 minutes or until crisp and golden
Transfer to a plate lined with absorbent kitchen towel
Serve while still hot.

Nutritional information per felafel ball
Energy 300 kJ (72 cal), Protein 3 g, Fat 2 g, (Sat 0.2 g), Carbohydrate 9 g, Fibre 3 g, Sodium 327 mg, Potassium 97 mg

Note: Although I hate food waste, I don't reheat and reuse oil as it is the old rancid oil that's extremely bad for your health. Transfer it to a jar, secured tightly with a lid and dispose of it wisely.

Black tahini sauce
Serves 8

To be perfectly honest I prefer white tahini over the black but because I like to try new things and given the trend in charcoal bread rolls I figure there'll be a wash of black food coming onto the market. Black sesame seeds are actually slightly better for you containing 60% more calcium than the hulled white, and more antioxidants however the trade-off is that they are slightly bitterer and, in my opinion anyway, they don't produce a particularly attractive looking sauce. It tastes good though so here's the recipe

½ cup black tahini
1 clove garlic, crushed
¼ cup lemon juice
Water to blend into a sauce

Whizz this up in a blender and don't worry about how it seems to thicken and coagulate to start off with. Persevere to a cream-like consistency.

Nutritional information per serve
Energy 437 kJ (106 cal), Protein 3 g, Fat 10 g, (Sat 1 g), Carbohydrate 0 g, Fibre 2 g, Sodium 13 mg, Potassium 43 mg

To make the tabouleh you can simply switch toasted buckwheat groats for the soaked bulgur to produce a crunchy gluten free variation of a tried and tested extremely healthy traditional Lebanese recipe or you can do as I did and vary the leaves to make it a little more interesting.

Gluten free roasted buckwheat tabouleh
Serves 8
¼ cup raw buckwheat groats
1 cup parsley, roughly chopped
½ cup mint, roughly chopped
1 cup silverbeet leaves, finely shredded
1 cup rocket, roughly chopped
200 g mini roma tomatoes, diced
2 Lebanese cucumbers, peeled and diced
6 shallots, finely chopped
1 red capsicum, diced
3 tbs olive oil
1 tbs lemon juice
½ tsp Dijon mustard
1 clove garlic, crushed
Cracked black pepper
Pinch salt

Pour the buckwheat into a small frying pan with no oil, and toast over a medium heat until golden and fragrant. Set aside
Combine the parsley, mint, silverbeet, tomatoes, cucumber, shallots, and capsicum together in a bowl.
Blend the olive oil, lemon, mustard, garlic and seasoning together and mix well
Pour the dressing over the veggies and sprinkle the groats over the top.

Nutritional information per serve
Energy 417 kJ (101 cal), Protein 2 g, Fat 7 g, (Sat 1 g), Carbohydrate 6 g, Fibre 2 g, Sodium 107 mg, Potassium 223 mg
Comments
Susie
Oct 6 2016 5:22PM
You don't have to deep fry. I've got a recipe that gives baking at 180 for 30-40mins (flipping halfway) as an alternative. These recipes are right up my alley. Looking forward to trying...
Add your comment
To post comments you need to be a member of The Food Coach club. Membership is free, so click here to begin posting!
If you are already registered, or are already a member of The Food Coach Club, simply enter your username and password below to begin commenting.
«Forgotten your password? Click here»