Our edible elephant ride
By: Judy Davie
Our edible elephant ride

What do you do with a steep sloped piece of land that is at the mercy of creeping bamboo threatening to overgrow it completely? Build an edible elephant on it of course.

The said steep sloped piece of land is on Sydney's Northern beaches suburb of Avalon. On it sits a simple cedar kit home, with magnificent Pittwater views, where we film most of our cooking videos. Martin and I bought the property in October 2008 and for the past two years have thrashed around various ideas of how to renovate the house and tame the very overgrown garden. I am finally at peace. Who needs the upkeep and expense of a swimming pool when you can tend to a living sculpture that earns its keep by supporting you with food? That's my argument anyway and one which I won, given that Martin wasn't all embracing of the idea when I first announced my intention.

If you are someone who believes in fate then perhaps you too will see that this elephant was meant to be. Perhaps it was fate or just great fortune shining down on the well intentioned but I happened to find the very engineers who worked on the Puppy outside the Guggenheim museum: And their office is not in Bilbao, it's in North Sydney. With Michael Loke of DW Knox & Partners enlisted (and slightly amused, bemused and hopefully a little excited too) we are ready to start. The land where the elephant will stand is appropriately like a jungle, but there is a bit of clearing to do and a retaining wall to be built, near to where she (or he) will stand.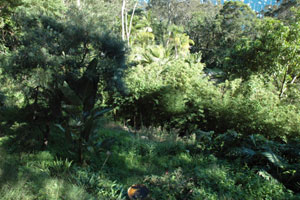 Yesterday we met Michael on site to show him the land and a very scaled down version of what we want. There's a long way to go from here but stay tuned; if you like elephants, gardening and food you'll enjoy our elephant ride.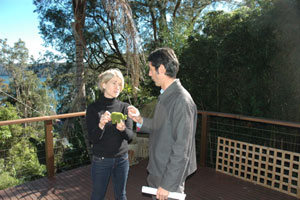 Comments
lesley
May 15 2011 4:24PM
This sounds like a marvellous idea Judy, what are you going to grow? Please keep us informed of every step - how exciting!!

Lesley
Joanna
May 19 2011 11:28AM
Love your outside the box thinking Judy - I look forward to helping eat your elephant!
Judy
Jul 12 2011 10:56AM
Progress. The block of land is proving to be a nightmare. We have to build a retaining wall at the bottom - at major expense- and now we find a sewage line runs diagonally across the block and because it's close to the planned retaining wall must have be encased in concrete. The only people who can do that are certified concrete encasers (the things we learn), and the word is that they are mega expensive. On a brighter note once it's all fixed the land will be ready for the edible elephant which has been designed. Michael from DW Knox & Partnerssent through the drawings on Friday and they are excellent. We'll post some of the plans onto facebook to show you. From here we build his skeleton out of steel. More on how later.
Add your comment
To post comments you need to be a member of The Food Coach club. Membership is free, so click here to begin posting!
If you are already registered, or are already a member of The Food Coach Club, simply enter your username and password below to begin commenting.
«Forgotten your password? Click here»