The Game of REAL Good Health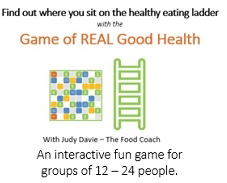 The Food Coach has developed a new game called "The game of REAL Good Health". It's a result of years of working with individuals and groups, and writing and reading about health and diet.
The game of REAL Good Health is great fun to play and we're having great fun delivering it. It's also important if we want to go some way to normalising people's eating habits.
If you work for a company or would like to get a group together to run the game please get in touch with me by using the form below for further details.
Enquire about the game