Fair Dinkum Foods to really celebrate this Australia Day
By: Judy Davie - The Food Coach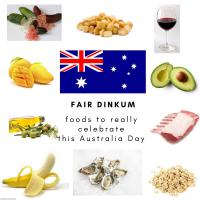 It's Australia Day tomorrow and so when I was thinking about what to write about, I did a quick Google search and typed in Food for Australia Day. Top of the list was an article on abc.net called "Fair-dinkum foods we all can celebrate". The list was something of a heath horror story. Top of the charts were lamingtons followed by meat pies, vegemite, pavlova, Tim Tams, Anzac biscuits, Chiko rolls, sausage sandwiches, Weetbix and finally, a burger with the lot.

Shame on you ABC because I think Australia has moved on a lot since the 60's and 70's when 40 million Chiko rolls were sold and it's time we came up with a revised list which shows modern Australians as they now are with discerning and diverse palates.

Modern Australians want to celebrate how far they've come since the days of meat pie and tomato sauce and recognise our food-producing nation and the fresh food we grow in this great country.

Modern Australians may also like to celebrate, in addition to the annual Australia Day Honours roll which recognizes outstanding achievement and service by members of our community, our Australian farmers who work tirelessly to provide the abundance of fresh food at our disposal.

The Land Down Under is home to plenty of fresh healthy foods, so let's celebrate some of its best.


1.Olive Oil

Gone are the days where we looked for Spanish, Greek or Italian olive oil. Today Australian olive oils have arrived on the world stage and are garnering critical acclaim. Extra virgin olive oil flows a glorious gold colour with a rich fruity flavour and is hard to match for its cholesterol lowering properties.



2.Macadamia Nuts

Nothing matches the creamy flavour of this indigenous nut grown in Australia. Macadamia nuts have a unique taste and texture and very slightly outmatch olive oil in their monounsaturated fat content. As part of a reduced energy diet, the good fats in macadamia nuts may help to burn body fat. Why not replace vegemite with macadamia butter on toast for a truly healthy Australian experience.



3.Wine
Australia is now the 5th largest wine producing country in the world and with so many climates in the one continent we produce wine from every state. The wine regions in each of these states produce different wine varieties and styles that take advantage of the particular growing environment and again we are up there on the world stage for excellence in Shiraz, Cabernet Sauvignon, Chardonnay, Merlot, Semillon, Pinot noir, Riesling, and Sauvignon blanc.


4.Oats

They may be eaten a lot in Scotland but lots of oats are grown across Australia in South West Western Australian, the Eyre and York Peninsulas of South Australia, western and north-eastern Victoria and the Riverina and central NSW. Oats contain a specific type of soluble fibre known as beta-glucan and studies have shown that just one bowl of oats supplies about 3 g of beta-glucan, enough to typically lower LDL cholesterol and reduce the risk of heart disease. They are cheap and full of goodness and a healthy addition to breakfast bowls of Australians up and down this great southern land.


5.Bananas
Remember the devastating cyclone Yasi which wiped out our banana crops and sent banana prices soaring to $15 a kilo? It was probably at that time when most Australians recognized how much they took this iconic Australian fruit for granted. Loaded with potassium, magnesium, folate, B6, Vitamin C and fibre, this widely available and, thankfully now very affordable natural snack is an Aussie icon we should all be celebrating this Australia Day.


6.Lamb

Barbeques will be firing up all over the country tomorrow and the chances are that lamb will take centre stage on the grill. 100% Australian lamb is worth celebrating particularly when drought conditions have made it so hard for farmers this year. Dry conditional may have produced fewer lambs last spring and as a consequence raised the price, but for its great taste and the nutritional benefits of protein, B12, zinc, iron and B6 there are plenty of reasons to splash out on some lamb.


7.Oysters

All over Australia's pristine waters you will find oysters. Coffin Bay and Smoky Bay in South Australia. Moulting Bay and Blackman Bay in Tasmania, Cape Hawk in New South Wales. As decadent as they may seem oysters are also one of Australia's most nutritionally well-balanced of foods. They are low in fat, calories and cholesterol in addition to being high in protein, iron, omega 3 fatty acids, calcium, zinc and vitamin C.


8.Finger limes

When white man descended on our indigenous nation little did they know that the indigenous people could teach them a thing or two about the healing powers of native foods yet it took some 200 years before anyone took notice. Finger limes grow naturally on Australia's east coast and are native to the rainforests of the border ranges of south-east Queensland and northern New South Wales. They are known as the caviar of the citrus world and set to transform the international culinary world. Bursting with zesty flavour, Finger limes are rich in folate, potassium and Vitamin E and have three times the Vitamin C of a mandarin. The level of Vitamin E is particularly high in the pink Finger limes


9.Mangoes

What do we think of when we think of Australia? Summer, sand, sunshine and quite possibly mangoes. Nothing speaks of summer more than the sweet fragrant smell of Australian mangoes. As the first of the summer season mangoes make their way down from Queensland to the fresh produce markets across Australia, celebrations begin as people flock for their share of this glorious summer fruit. It's summer, it's Australia and life is good.


10.Avocado
We first planted them in Sydney's botanical gardens in 1840 - well before chiko rolls were invented - and now Australian avocadoes are grown in orchards across Queensland, NSW, SA, Vic, WA and Tasmania. It appears to have pushed vegemite off its top stop as Australia's favoured breakfast food and appears as a breakfast mainstay in cafes across the country. Smashed with a drizzle of olive oil, lime juice and goat's fetta ( also from Australia), it's pretty hard to beat in taste and nutrition providing Vitamin E, C, K, Folate, and fibre. It's also delicious with vegemite !

Happy Australia Day






Comments

Be the first to comment!

Add your comment
To post comments you need to be a member of The Food Coach club. Membership is free, so click here to begin posting!
If you are already registered, or are already a member of The Food Coach Club, simply enter your username and password below to begin commenting.
«Forgotten your password? Click here»