I'll have Iceberg please?
By: Judy Davie - The Food Coach ( with information sourced from Sydney Markets )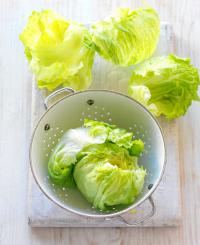 Health experts alike will tell you for better nutrition you should be eating the dark leafy salad greens like baby spinach , rocket, watercress and endive because they contain more nutrients than the pale varieties such as butter, cos and iceberg lettuce. And while that may be true, iceberg lettuce with its icy crunch is an very healthy alternative to bread, rice, and noodles when it is used as a "cup" in popular dishes such as San Choy Bou. It adds an appealing crunch to the dish and provides virtually no calories ( kJ). This week iceberg lettuce are a great buy so why don't you try swapping out some high energy carbs with these appealing crunchy leaves.

Before you start you should learn how to crack into an iceberg lettuce and separate the leaves, otherwise they will end up tearing and you'll be left with a mountain of little pieces unfit to hold anything. This information courtesy of Sydney Markets Blog shows you how.

Step 1: Trim and discard any tough outer lettuce leaves. Using a sharp knife, cut around the lettuce stem at the base and remove the white central core.

Step 2: Hold the whole lettuce, cut-core side up, in the palm of your hand under cold running water. The lettuce fills with water, making for easy removal of the crunchy outer leaves/cups. Drain in a colander then pat dry with paper towel or a clean tea towel.

Recipes ideas using iceberg lettuce

Replace rice paper to make a healthier version of rice paper rolls - Fill with strips of chicken or prawn, grated carrot, zucchini, coriander, shallots and chopped peanuts and serve with a dipping sauce.

Swap out the burritos and tacos shells in spicy Mexican dishes and fill iceberg lettuce leaves with smoky Mexican bean and mince dishes.

Fill salad with salad ( such as in this recipe from The Greengrocer's Diet - chicken, mango and feta cups).

Fill a mixture of mango, prawns, avocado and lime juice into an iceberg cup and top with chopped coriander.

Iceberg lettuce may sit at the lowest rung when it comes to nutritional value but it still contains some nutrients such as fibre, potassium, zinc, calcium, folate, Vitamin A, and Vitamin K and it shouldn't be discounted particularly if it helps you and your kids eat other healthy ingredients alongside it.


Comments
Jim
Jan 22 2018 9:24PM
I like to grow all my lettuce and have 4 varieties growing in the garden at any one time and plant succession crops each month. Gets a bit hard in heatwave conditions but it is doable. All my lettuce are dark in colour when compared to the iceberg type which has most of its leaves tightly covered with the outer leaves.
I haven't grown icebergs for close to 30 years and as a kid in the sixties I would sell them for a shilling or one and sixpence each (1/- or 1/6) depending on size or season.
The lettuce I grow now are a brown/red oakleaf, green oakleaf, and two types of cos. I always have silverbeet growing and do not grow rocket or watercress due to their bisulphides which I have an allergy to or endive because it is too bitter for me.
One problem with using my lettuce types they don't provide a cup.
When you mention baby spinach, I wonder do you mean silverbeet or true spinach. Unfortunately spinach only grows during the winter
Add your comment
To post comments you need to be a member of The Food Coach club. Membership is free, so click here to begin posting!
If you are already registered, or are already a member of The Food Coach Club, simply enter your username and password below to begin commenting.
«Forgotten your password? Click here»